Algonac Housing Commission
Algonquin Place
The Algonac Commission administers one program through their office. The program is Low-Income Senior and Family housing. In 1975 "Algonquin Place" was built. It is a three story high rise with the elevator located directly in the middle of the complex for easy access to all. There are also 20 townhome apartments. There are laundry facilities located on every floor and one located by the townhomes. Each consists of two coin operated washers and dryers in each facility.
The Complex
Algonquin Place has 50 one-bedroom apartments located in the high-rise. The one bedroom apartments are approximately 600 sq/ft with a living room/kitchen combination, a separate bedroom and bathroom. All utilities are included in the rent, in the high-rise apartments (heat, electric, water/sewer). The Algonac Housing Commission supplies the electric stove and refrigerator.
The 20 townhome apartments consist of 1, 2, 3, and 4 bedrooms. The 1 bedroom apartments are approximately 630 sq/ft. The 2 bedroom apartments are approximately 920 sq/ft. The 3 bedroom apartments are approximately 1140 sq/ft. The 4 bedroom apartments are approximately 1280 sq/ft. Utilities are not included in the townhome apartments but a utility allowance is given. There are 2 – 1 bedroom apartments, 10 – 2 bedroom apartments, 6 – 3 bedroom apartments, and 2 – 4 bedroom apartments.
Community Amenities include:
Smoke-Free Facilities
Community Room with River View
Library/Game Room
River View Picnic Patio/Gazebo and Corn Hole
Playground & Courtyards
Laundry Room Facility
Elevator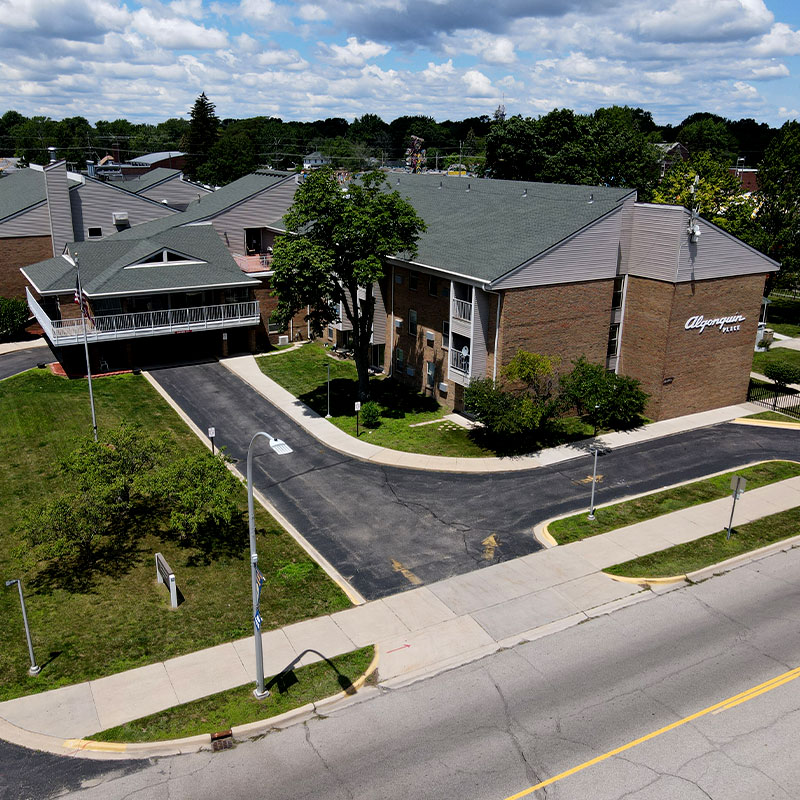 Our Mission:
It is the mission of the Algonac Housing Commission to provide safe, sanitary and affordable housing for low income elderly and persons with disabilities in a cost efficient manner and within an environment free from discrimination.

Board of Commissioners
Algonac Housing Commission consists of five 5 members that are appointed by the City Counsel of Algonac. The term of office of members of the commission is 5 years. Members of the first commission existing hereunder shall be appointed for the term of one (1) year, two (2) years, three (3) years, four (4) years and five (5) years respectively, and annually thereafter one (1) member shall be appointed for the term of five (5) years.
Algonac Housing Commission has all of the powers and duties vested or permitted to be vested in the Housing Commissions by said Public Act No. 18 of the Extra Session of 1933, as heretofore or hereafter amended, and any laws heretofore or hereafter enacted which are supplemental thereto, it being the intention of this chapter to vest in the housing commission all powers and duties permitted by law.
Meetings are every 3rd Monday of the month at 6:00pm. These dates and times are subject to change.
Bernard Ferris
Vice President
---
Barbara Faulman
Resident Commissioner
---
Open Position
Commissioner
---
Christine Robb
Commissioner
---
James A. Dewey
Executive Director
---
2023 Algonac Commission Board Meetings
6 pm • Moerhing Room
1205 St. Clair River Drive, Algonac, MI 48001
August 21
September 18
October 16
November 13
December 11
2024 Calendar is forthcoming
Algonac Housing Commission
1205 St. Clair River Drive
Algonac, MI 48001

Office Hours:
Monday - Friday 8:00 a.m. - 4:30 PM by appointment only